This is a picture of Anita Dorr.I recently learned that it turns out that Anita started out as an OR nurse, became a nursing supervisor, then joined the Army Nurse Corps to care for the injured during World War II.  When she returned from caring for our troops, she took time off to raise her family.  As she returned to nursing, she found a job in the Emergency Department  at Meyer Memorial hospital in Buffalo, New York.
She got tired of having to carry all the supplies that were needed and the delayed response any time there was a patient emergency, and, with her husband's carpentry skills, invented what she called the Emergency Nursing Crisis Cart in 1967, the cart we fondly refer to as the Crash Cart.
The cart that Anita invented can be set up many ways, and I recently got to help set one up.
With the nod of the Medical Director, we did a few things that made the set up simple, as well as easy to maintain.  (Disclaimer Alert-examples only, of course.  Your Medical Director/Governing Body/Accreditation/regulatory body /patient population may have specific requirements).  I have made the resources linkable, so click to link for reference.
First,
We decided the cart would be for all emergencies, including Cardiac, Respiratory, Malignant Hyperthermia, and Local Anesthetic Systemic Toxicity (Lipid Rescue for LAST).
Next,
We used current ACLS guidelines and divided the medications into categories for storage and labeled them.  Categories included: Arrest, Bradycardia, Tachycardia, Suspected MI, Respiratory Distress, Anaphylaxis, and Reversal Agents.
We followed current MHAUS guidelines for the Malignant Hyperthermia drawer.
We used ASRA and Lipid Rescue guidelines for the Lipid Rescue space in the cart.
We placed all the supplies in drawers by grouping:  respiratory, cardiac, intubation, IV access, blood draw and the like, and color coded the containers for easy visualization.
We labeled the outside of the drawers as well with general categories for quick reference.
The equipment, including the defibrillator and portable suction remained on top.  Any items that may be needed outside the cart were listed with their location.
We added tabs for transfer and code documents, as well as a " to do" checklist if a patient were in need of transfer.  The front of the book contained the daily and monthly logs for recording the checks, as well as all current reference guides and information.  We assigned a primary and secondary nurse to manage the checks.  They, as the cart "owners", became the point of contact for the drills to review the cart and its contents.
It turns out that Anita went on to provide technical support to Paramount pictures, as well as for the Emergency Nurses" Association.  Here is a picture of her cart: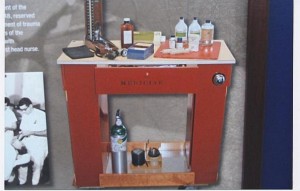 Can you imagine having to hustle supplies to the bedside in the event of an emergency?   Hats off to Anita for her invention, and check your cart out in her honor to make sure you have everything needed just in case.