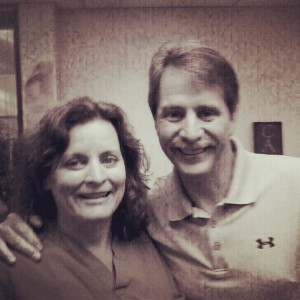 A couple of years ago, I was getting ready for a busy day at my surgery center.  I got up showered, dressed, ran out the door got to work, and got in my scrubs.  It was one of those early mornings that taking the extra early minute was given to that cup of coffee, and not a lot of personal prep.
As a working manager, dressing up as you know is not always part of the job, but it wasn't even on the list on this particular day.  Not even mascara.  Hair dried by the windows down method.  You get the idea.  I hit the ground running, and, when I got a minute to catch my breath, I ducked out to the building cafe to grab a bagel.
As I waited my turn…I noticed the guy in front of me.  He looked familiar.  Then it hit me.  So, in my my finest moment (not), I came up with the best thing to say I could think of…
"You look just like Jeff Foxworthy!  Yup! Genius, right?
So he responds…"well hell, I'd rather look just like Brad Pitt!"
What a great guy.  He was as kind as I had heard, and agreed to me taking his picture.  I wanted it just of him, but he was insistent that I be in the picture as well.  So there I am, window dried hair, no mascara, with Jeff Foxworthy.
What did I learn from this chance encounter? I wish I could report that I style my hair and put on mascara every day.  It was a good lesson in that you never know who will come into your center, and we may not be "camera ready" at all times.
Take a look at your center as if you are a visitor.  Is the cleaning crew doing everything you pay them for, or have you become a bit complacent to a not so stellar job?  How  about equipment and supply storage areas? Is everything neat and organized? Use a light case day and designate it spring cleaning day.  Do a infection control walk through with inspectors eyes.  Just like that junk drawer at home, it is easy to overlook stash spots.   Is it time to have the floors re-done? Order some more bins for storage.  Laundry baskets work great for storing fluids.  Make sure that your are comfortable with how the whole center looks. You may want to delegate the task to someone who can give you an honest assessment who doesn't work in the center daily.  Create a task checklist from the walk through, and assign the needed improvements based on the checklist findings.
It seems I often have chance encounters with really great people.  I'll save my story about sitting on a plane next to Bill Murray for another time.
In the meantime, I'm excited about going to ASCA in Orlando! Are you going?  I would love to meet you in person! Send me a quick e-mail  at leslie@ascrubslife.com if you are going, or find me there! I promise to wear mascara!