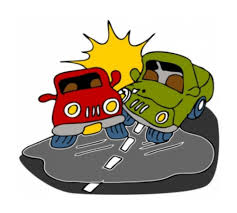 I have a confession…I am a car girl.  I love cars, especially muscle cars.  If I win the lottery, I will buy a 60's model GTO.  My current car isn't  my dream car, but it is a beautiful color blue, and I treat it lovingly.
You can imagine my dismay when my teenage stepson, while backing out of the garage, scraped his truck down the whole back left side of my  car while I was parked in the driveway a morning this week in a rush to get to school….and didn't tell me.
What  he didn't take into account was that my bedroom is above the garage, and I heard the telltale sound, and prayed I was mistaken.
As part of my initial conversation after the "incident" I talked to him about accountability.  How everyone makes mistakes and accidents happen, but the much bigger issue was in how he handled it. I'm sure that, if any of you have or had teenagers, you know the drill…denial, excuses, avoidance.  It made me think about accountability in general.
Mistakes happen, cars get hit, instruments aren't available, we forget to order a supply or equipment needed for a case, we don't communicate a schedule change…we are all human.  How the mistake is handled…big or small..is key.
Even though on our best day we take accountability for our actions or those of our staff, it is easy to return to those same behaviors that the "driveway incident" evoked.  The easier path is to blame the mistake on the delivery schedule, be busy when the surgeon is finished with a case, and deflect to others who may have contributed to the problem.
Sometimes, the best life lessons come when we look at things with a different perspective, out of context.  So, as I pondered the "incident", I thought I would share the hard knock lessons I re-visited, as a good reminder…
Mistakes will happen.

We are all human.

How others respond to the mistake is out of our control, but we have the power to choose our response.

Denial, excuses and avoidance make it worse.

Accountability is key….and powerful.

Our best life lessons come from our mistakes.
I remember once how a mistake caused a significant case delay and a very angry surgeon.   I still remember how I felt walking to the scrub sink to address the issue.
I responded as soon as it was brought to my attention, looked the surgeon in the eye, apologized for the mistake, and vowed to do everything I could to make sure it didn't happen again.
I saw the anger leave him.
That memory gave me the courage in how I approached handling mistakes ever since.
I hope you don't have a "driveway incident" but,  like this valuable life lesson, which left pain on metal and wallets only, remember that mistakes are lessons to learn from that, when the response is accountability and action, can impact  outcomes and prevent bigger ones from happening .