I don't know about you, but I find staff training challenging.  I'm NOT Oprah.  (YOU  get to learn about emergencies…lol!) I have this list of everything staff need to know that I've built from the compliance documents, use it to train new staff, and then train again each year. Then, when I hire someone new, I have to start over. To solve some of these challenges, I've gathered a couple good training resources to save me having to stand up in front of the staff, hopeful smile on my face, policy in hand, hoping for their attention.
Here are some of my favorites:
 The Anesthesia Patient Safety Foundation is a great resource for free training.  They have a free 18 minute video intended for all audiences to educate on the prevention of surgical fires.  You can find the link here.  They also offer free printable surgical fire prevention posters and flyers.  They are an independent, non-profit organization, and have a wealth of information on their site.
They also offer a free video on medication safety in the OR.  You can find the link here.  
2.  I have a go to site for Fire Extinguisher Training that I love.  It is free, very visual, animated, and has a test at the end.  You can find the link here.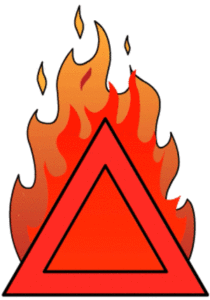 3.  I found this training on Sterile Processing offered by Pfiedler and sponsored by Stryker that provides a certificate and a CE credit as well!  you can find the link here.  They have an extensive list of free training that you can find here.
4.  To better prepare for a Malignant Hyperthermia Crisis, visit the MHAUS website, where you will find free training on   Managing an MH Crisis.  The site has other many great resources, including posters, recommended supplies, and quick reference cards. I highly encourage supporting MHAUS and using them as a resource if you use triggering agents in your center.
5.  I have always loved this free "live" EKG rhythm game offered by Skillsat It is a great way to brush up on rhythm identification or prepare for your next ACLS certification.  You can find the link here.
6.  Did you know that I now have training? I've created and launched ASC Solutions Academy, a web-based, easy to use ASC training site that offers a variety of choices.  As part of the launch, I'm offering our Workplace Violence course for free!  Use the coupon code ALM4YOU at checkout.  It's very visual, not complicated, and gets the message across.  One of the nurses who took it told me-"you're training is like you!  Straightforward and helpful!"  I took that as a compliment!
Hope these resources help solve some of your training needs.  Let me know if you are looking for a specific resource!  You can comment below, or e mail me at leslie@almss.com.