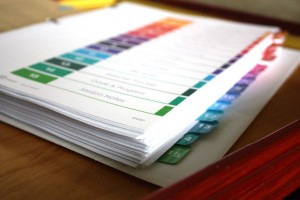 In-services.  We all know the importance of training our staff, keeping them updated and communicating regularly.  If you are like me,
You swear you just had an in-service recently, go back to your records, and time has flown by.  Could that last documented in-service really have been that long ago?
How can you make your in-service documentation better?
To make life easier, start by printing  out (or create a new) in-service template.  Include an area for topic and objectives.  Line the bottom for signatures.  Have it as an easily accessible form to either type or write in information.  If you are old school like me, you may want to keep it in a handy folder and just write it out.  Use it any time a training opportunity presents itself.
Use these opportunities as in-services:
Any time a new piece of equipment, instrument, tray, or specialty supply comes in your center.  As the vendor discusses  the product with the staff, document the product name, an overview of use, and include key points from the vendor.  Attach any literature they may provide.  I recall needing instruction on reconstitution of a medication on the surgical field, and used the instruction as a documented in-service.
Any new or updated policy.  Use your in-service record to indicate why the policy was created or updated, attach the policy, and everyone can review it and sign off.
New regs or rules.  As new information comes out, teach the staff.  As an example, CMS recently allowed for an exemption for power strips with guidelines for their use.  Outlining the exemption guidelines and how you are implementing at your facility would provide a good in-service opportunity.
New orders.  If your anesthesia staff changes their pre-operative protocols, or your physicians change their DVT screening criteria, review the revised information and document.
Governing board decisions impacting staff.  Not all governing board decisions apply, but those requiring communication to the staff requiring new activity may be better shared as an in-service than waiting until the next staff meeting if the decision means new actions.
Agenda items from staff meeting minutes.  Regular staff meetings are important and should be documented as well.  However, you may want to carve out any communication that requires teaching and present as an in-service.
Any identified needs.  If you find or identify an area where the staff could use a refresher, make it an in-service.  An example may be that hand-off communication activities don't live up to the facility policy.  Review the policy, have some demonstration, and attach the policy to the in-service record.
QAPI study implementation.  Your plan identified that staff is not using PPE during decontam effectively and includes education of staff.  Close the loop and put in in writing.
Get in the habit of taking the teaching moments that occur regularly in your center and making them in-services. Your in-service book will be full and your worries less.