Adventures in Gastro Quality Reporting # 9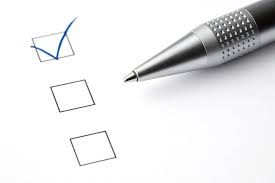 Whether you are single specialty Gastroenterology or multispecialty with Gastro cases, you are among many of  us who have 2 new measures to track.
Being one that loves the phrase "fortune favors the prepared" I spent extra time studying the new guidelines and preparing a plan for reporting.  Below I share my data collection steps in hopes that you may shorten the time you spend gathering this information.
Obtain a printed procedure report from the billing software.  Even better if you can pull just the 45378 and G0121 procedures!!
Compare the list to your daily charge batches to remove the history of polyp, neoplasm, family history, etc.  Highlight only those that DO NOT have a history.
With the highlighted list, I went into my EMR system and viewed each Op Report and documented the recommendation for follow up.
Lastly, I assigned a "+" (plus sign) to the ones that met the criteria and a "–" (minus sign) for those that did not.  The denominator is my highlighted patients and the numerator is those that have a plus.  Here is an example of how that looks using my friends and family's names (keep in mind that the last 2 columns are handwritten by me:
| | | | | | | |
| --- | --- | --- | --- | --- | --- | --- |
| | Physician | Patient | DOS | Procedure Code | Recommended follow up | Result |
| 1 | Dr. ABC | Jessica | 4/1/2014 | 45378 | 10 years | + |
| 2 | Dr. ABC | Kari | 4/2/2014 | 45378 | 5-8 years | – |
| 3 | Dr. XYZ | Denise | 4/3/2014 | G0121 | 10 years | + |
| 4 | Dr. XYZ | Leslie | 4/4/2014 | G0121 | 10 years | + |
| 5 | Dr. LMN | Chris | 4/7/2014 | 45378 | 5-8 years-max 8 | – |
| 6 | Dr. LMN | Eric | 4/8/2014 | 45378 | history of polyp |   |
| 7 | Dr. ABC | Linda | 4/1/2014 | 45378 | 10 years | + |
| 8 | Dr. ABC | Camey | 4/2/2014 | 45378 | No documentation | – |
| 9 | Dr. XYZ | Patrick | 4/3/2014 | G0121 | 10 years | + |
| 10 | Dr. XYZ | Camille | 4/4/2014 | G0121 | 10 years | + |
| 11 | Dr. LMN | Gabriel | 4/7/2014 | 45378 | history of neoplasm |   |
| 12 | Dr. LMN | Sam | 4/8/2014 | 45378 | 10 years | + |
Denominator = 10 Numerator = 7 I can honestly tell you that for the month of April with a total volume of 400 procedures, this took me approximately an hour to complete.  I am now half way to the required 96 cases per measure so only one more month of data collection!  Yay! Here is a link to the http://www.oqrsupport.com website just in case you need the actual measure guidelines. And here is a great flowchart http://www.oqrsupport.com/media/tools/ASC-9_flowchart_FINAL_508.pdf</a
Author:  Casey McFarland
---